Performing Arts Foundation Diploma
Experience one of the best and newly reimagined Performing Arts Foundation courses in the UK, with world-class training and incredible opportunities.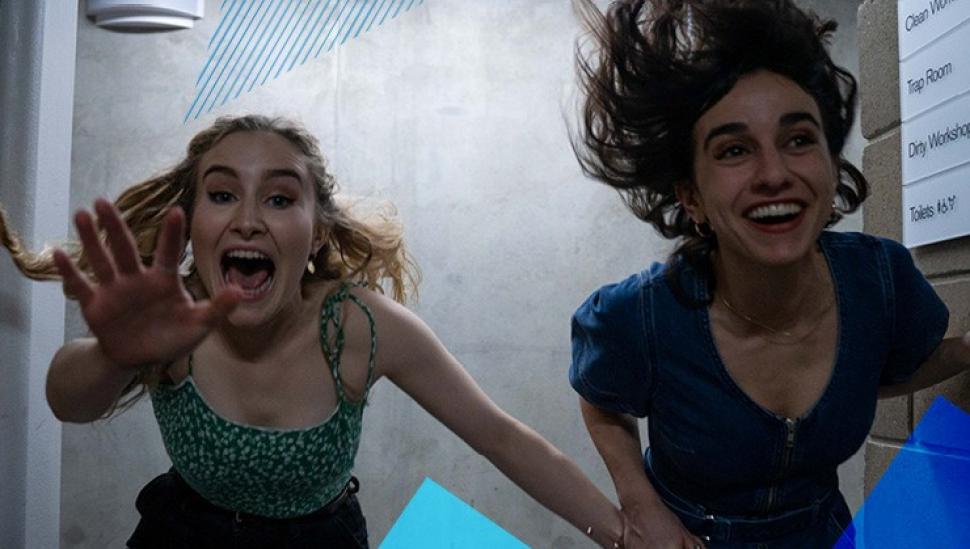 Minimum age
18
Academic requirements
None
Course length
6 months
Tuition fees
For academic year 2021/22: £10,500
Tuition fees are reviewed annually
Applications
Applications for 2021/22 entry have now closed. Applications for 2022/23 will open in the autumn.
Application deadline
1 July 2021
Admission process
Application and audition
About the course
This is an exciting opportunity to enroll on our newly conceived LAMDA Performing Arts Foundation course.
Whether it's acting, making, writing, screen, drama, music theatre, movement theatre or producing you are interested in – this course can be your springboard into the performing arts. It is designed so that you can go on to three-year acting courses, to university – or jump straight into the creative industries.
Each module within the course will have its own structure, depending on the specialism you'll be exploring. Throughout the busy and intensive six months, you will receive core skills training in voice, acting, movement and music all the way through until you begin your rehearsal to performance module.
The modules will cover introduction to actor training, contemporary theatre and devising, screen, wordsmiths and the classics, music and movement, and rehearsal to performance.
What does it mean to train as an actor at LAMDA today? What does an ensemble built on trust and founded in equity feel like? What is the experience of working in rehearsal spaces that are safe, inclusive and creative? How do we step into the unknown together?
Every module of this course is based on these principles, encouraging you to work creatively from yourself and as a collective. As you go through a series of industry professional and practitioner-led workshops and projects, and begin the journey of assembling your creative tool kit, you will be challenged and inspired as you begin your skills training here at LAMDA.  
We believe that actors are change makers, and we place amplification of the individuals artistic voice at the centre of our training every step of the way. 
We need new stories, now more than ever. This is where you come in. This exciting module creates the space, time and targeted experiences for you to develop your own artistic voice, unapologetically and with confidence. You'll work with inspiring and ground-breaking theatremakers of today, who will guide you through the process of a devised project with hands-on tools for writing and theatre making. You will learn how to bring your own ideas to fruition, and get to know exciting theatre makers in a series of masterclasses. You will share your work-in-progress pieces with each other, understand more about artist-led feedback, and you will begin to experience what it is like to create as part of an ensemble. This module culminates in an internal sharing of your solo-created pieces.
A challenging and hugely exciting medium that is ever evolving. Our screen training is a world player in its interrogation of the relationship between actor and camera. We will provide you with hands-on experience alongside an individual, bespoke training that will allow you to truly bring yourself to the work, and through a single lens, speak to many. This last year has changed the landscape of casting, and the machine of the industry.  
Experience the basics of screen acting in a multi-platform way and learn to love your relationship with the camera. Aside from hands-on work on scenes and screen-acting techniques, you will also review and improve your self taping skills, learn about film making and editing,  and get creative with the digital medium by making your own short film.
Classical text has formed the basis for actor training since... well, the birth of dramatic texts. In a contemporary context we question what they have to say in the 21st century and where the modern classics are being born in new languages and new artists today. We understand that these great writers were the rebels and rule breakers of their day so we look to explore this also in our new global context of spoken work artists, poets and playwrights writing in heightened styles. We offer you the opportunity to explore classical text through a contemporary lens, to engage with the playfulness in complex poetic dramatic texts: rhythm and rhyme, meter and verse, rhetoric and repetition, imagery and word play, and learn what we can bring to this language to bring it to life. A revolutionary and relevant way to embody and understand classical acting today. 
Physical expression and musicality of emotions live in almost everything we do. Movement and music are powerful tools that help us tell the stories we want to tell, when words just aren't enough.  
Train in the most exciting forms of contemporary movement theatre and become confident in non-verbal, playful expression through sessions in clowning, buffon, movement theatre and dance.  
Learn how music can work as a storytelling device, and begin to explore your singing voice and individual musical identity in an accessible, actor-driven way. This module will culminate in you telling a story as an ensemble, relying entirely on music and movement. 
You have investigated, explored and tasted, pretty much every aspect around being a theatre artist today. Time to put the show on the road. The final Rehearsal to performance module will see you conceive an entirely new play, from start to finish. The company will take on all the roles required to bring a show to life, from producer, dramaturg, associate director, to stage manager, writer and company manager. A new play will be conceived, rehearsed and performed by you, led by an exciting creative team of industry professionals. Using your newly learned techniques, you will conceive a relevant play for today as a company, culminating in two project sharings in a LAMDA studio.
Based in London, this is the perfect course if you know you want to be in the performing arts but aren't sure which direction you want to take yet – or whether a three-year BA is for you. Alongside rigorous skills training, you will work with a range of exciting LAMDA practitioners in projects and rehearsals, meet industry professionals and make new connections – and you will be encouraged to work and think independently as an actor, artist and human every step of the way.
Classes run from Mondays to Thursday, so this is the perfect course if you want to experience the rigour of full time training whilst also being flexible to work alongside.
Evolved from traditional acting foundation courses, this Performing Arts Foundation Diploma offers you the opportunity to explore numerous core aspects of the performing arts in six consecutive modules, with artist development always at its heart.
The modules encompass introduction to actor training, contemporary text and devising theatre, screen, classical acting, music/movement theatre and culminate in a rehearsal to performance module where you conceive a new play together as a company with a creative team.
During a busy and intensive timetable you will take classes in acting, movement theatre, voice, singing, screen acting, devising theatre and artist development – and apply your newly learned skills in a range of workshop productions and projects.
We know that not everyone has the luxury of taking the time for a full-time course. This is why this course offers you the best of both worlds with the rigour of a full time course and the flexibility to work alongside, with classes running Mondays – Thursdays only. 
You need to be a fluent English speaker to apply for this course.
Due to visa restrictions, we can only accept UK applicants onto the Foundation diploma.
2020-2021
Autumn term: 12 October - 18 December 2020
Spring term: 4 January - 23 April 2021
2021-2022
11 October 2021 - 1 April 2022
Tuition fees
For academic year 2021/22:
£10,500
Tuition fees are reviewed annually
Application/audition fees
First round audition fee: £12
Recall audition fee: £24
Funding
There is no UK government funding available for this course. If you're thinking of applying, you will need to be self-financing.
However, each year we award a full tuition fee scholarship to one student on the Foundation Diploma. There is no application process – if you are chosen to receive this scholarship, we will let you know when we offer you a place on the course.
If you are a current or prospective student for 2021/22, then your experience at LAMDA may differ from some of the information you will find on this page. LAMDA will be following the government's guidance and measures as they evolve, in order to keep students, staff and visitors healthy and safe. This means the teaching, learning and assessment of our courses may alter, though at time of writing (May 2021) we are happy to say that we have been enjoying being back in our building for in-person classes since the end of March.
If we are required to make changes, we will update you about these changes on our dedicated page here.
When we receive your application, our admissions team will send you up-to-date information about what you can expect from the process. If you have any questions, you can reach the team on [email protected].   
This page features a breakdown of all the course modules for this course. You may also find it helpful to read LAMDA's COVID-19 Amended Delivery Overview. This document contains more information about our commitment to the students attending LAMDA in 2021/22, their experience and the way we intend to deliver courses. We hope it will help you make an informed choice about your studies.
We expect to be using blended learning methods in 2021/22, and we may need to update the specific nature of delivery as guidance from UK and local government evolves. By accepting an offer and enrolling onto a course in 2021/22 you are agreeing to the changes we make to course delivery for the sake of Covid-19 security. You can find further information about this on our FAQ page.
Current students should note that alongside the website, LAMDA will use email and our intranet, LAMDA World, to let you know about changes to the content, syllabus, mode of delivery, term dates and timetable, in line with our terms and conditions.
Your future career
As a graduate of this Performing Arts Foundation Course you will be equipped to pursue a range of careers in the dramatic arts, including professional acting, writing, directing, theatre-making and producing.
You will have a clearer understanding which aspect of the performing arts is for you, and you may pursue further full-time training with LAMDA or other vocational drama schools and/or universities.
All teaching staff are experienced and active industry professionals, many of them core teaching staff at LAMDA. You will also be working with artists, writers and directors who will act as mentors throughout your time at LAMDA – plus there will be opportunities to work with our LAMDA alumni ambassadors to give you a hands-on glimpse of what life in the performing arts feels like. 
This is a full-time course. You can expect to be busy on campus for 24 hrs a week which will consist of tutor-led sessions and student-led group work.  Your timetabled week runs from Monday – Thursday. 
You will also be busy with reading and watching plays, as well as class-specific research and independent creative tasks set by your teachers and workshop leaders in your own time. 
The diploma is awarded by LAMDA. The course does not carry any HE credits or UCAS points.