LAMDA Foundation Diploma
Experience one of the best acting foundation courses in the UK, with world-class training and incredible opportunities.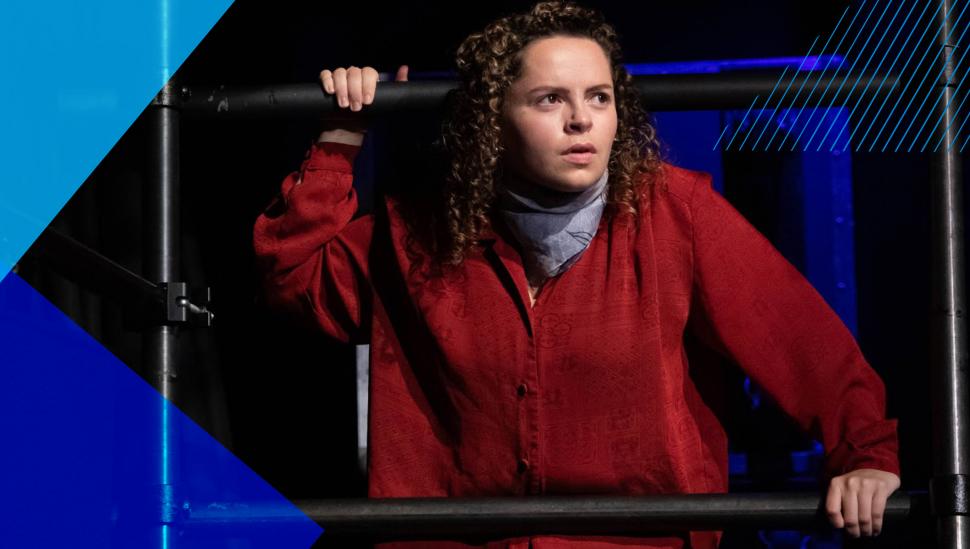 Minimum age
18
Academic requirements
None
Course length
One year
Tuition fees
For academic year 2020/21:
£13,799
Tuition fees are reviewed annually
Applications
Applications for 21/22 will open soon
Admission process
Application and audition
Is this course for me?
This exceptional drama foundation course in London is perfect if you have some experience in acting but would like to explore your potential and take your creativity to the next level. 
It will give you a thorough grounding of all the core skills you'll need to become a professional actor, or to pursue the many other careers in the creative skills industry, including writing, directing and designing. 
You need to be a fluent English speaker to apply for this course.
Due to visa restrictions, we can only accept UK applicants onto the Foundation diploma.
Autumn Term: 12 October - 18 December 2020
Spring Term: 4 January - 23 April 2021
Tuition fees
For academic year 2020/21:
£13,799
Tuition fees are reviewed annually
Application/audition fees
UK/EU auditions
First round audition fee: £12
Recall audition fee: £24
Funding
There is no UK government funding available for this course. If you're thinking of applying, you will need to be self-financing.
However, each year we award a full tuition fee scholarship to one student on the Foundation Diploma. There is no application process - if you are chosen to receive this scholarship, we will let you know when we offer you a place on the course.
All about the course
This acting foundation course has a carefully designed curriculum and is one of the most exciting introductory courses in the UK.
During a busy and intensive timetable, you'll discover and develop your Artistic self as you take classes in: Acting, Character Development, Movement Theatre, Feldenkrais, Dance, Voice, Singing, Textual Analysis and Interpretation, Devising Theatre and Artist Development.
You'll practise your newly formed skills with closed workshop performances covering Contemporary Scenes, Comedy, European Drama, Shakespeare and Modern Drama.
The course culminates in the creation of an original piece of work, which you'll conceive, create and write through a process of research, improvisation and rehearsal.
Amendments for Covid-19 (Published 22 October 2020) 
If you are a current or prospective student for 2020/21 – 2021/22, then how you experience our training will be different to some of the details below. Over Summer 2020 LAMDA informed current or prospective students that we will continue to communicate further adjustments to our planned contact hours, modes of delivery, curriculum content and assessments as soon as we are able.   
Please read the introductory information in this document to find out more about the experience we are committed to offering you, so that you can make informed choices about your studies. The introductory information about material changes on pages 4-6 to delivery also applies to our Foundation Course as well as the HE courses discussed in the document.  
By accepting and enrolling on to a course in 2020/21 – 2021/22 you agree to these changes. For further information see our FAQ page which also highlights that we will be offering blended learning in 2020/21 – 2021/22 and may need to update information on the specific nature of delivery in line with government guidance during each term. 
Please note LAMDA will also communicate reasonable changes to the content, syllabus, mode of delivery, term dates and/or timetable of courses in line with our terms and conditions with students via the News and Updates page on LAMDA World and email during each term. 
You will undertake a minimum of 35 hours practical work a week, spent in class, rehearsal, and during self-led research.
This course is one of our own range of non-accredited diplomas. It is not validated by a higher education provider such as the University of Kent.
Our Academic Services team provides access to a full range of appropriate academic support, including study skills, support for learners with dyslexia or dyspraxia, and other physical equipment or software needed to support you.
Academic Services also arrange access to any specialist help needed to support your physical or mental wellbeing, such as physiotherapy, vocal health or counselling. You'll also have free online support with our digital health and wellbeing platform - Togetherall.
We're here to help
At LAMDA, we're a family. We'll make sure you get all the support you need to feel at home. Read on for more information about accommodation, visas, healthcare, housing, insurance and student support.
Your future career
Graduates of this acting foundation course have gone on to pursue a plethora of careers in the dramatic arts, including professional acting, writing, directing, designing, theatre making and producing.
Some pursue further full-time training with LAMDA or other vocational drama schools and universities.
This course is one of our own range of non-accredited diplomas. It is not validated by a higher education provider such as the University of Kent.