Writer
Kieran Knowles
Director
Abigail Graham
​Location
The Sainsbury Theatre
Dates
Saturday 3 December at 7:30pm
Monday 5 December at 2pm
Tuesday 6 December at 7:30pm
Wednesday 7 December at 2pm*
Thursday 8 December at 7:30pm
*This will be a relaxed performance. Find out more.
The running time is approximately 1 hour and 30 minutes.
About the show
London is an adaptation of London Labour and the London Poor. Mayhew's original journals formed a landmark study of poverty in the 1840's and started a conversation which ultimately led to the welfare state.
The play is about the pervasiveness of poverty in society. And the eternal inability of those with power to change conditions for those without.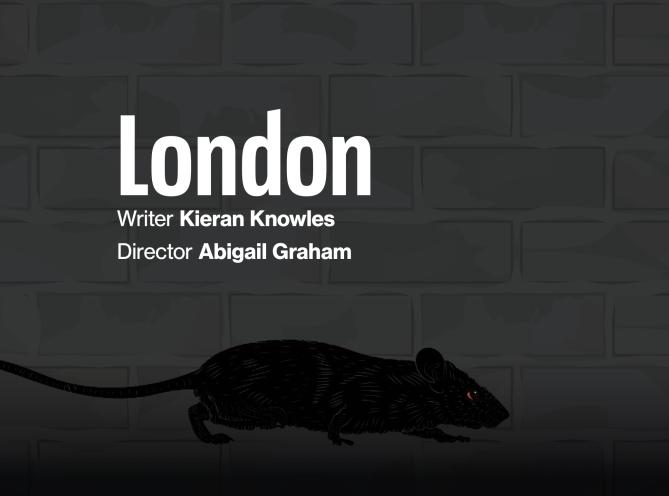 Kieran trained at LAMDA and Loughborough Univerity.
His acting credits include: 71 Coltman Street (Hull Truck Theatre), Operation Crucible (Finborough Theatre, Sheffield Crucible and NYC), Toast (UK Tour and NYC), The Taming of the Shrew and The Winter's Tale (Royal Shakespeare Company), The Witches Promise (Birmingham REP), Losing Paradise (BBC Radio 4).
Writing includes: Some People Feel the Rain and Red Brick, Render (Royal Exchange Theatre), Chicken Soup. (Sheffield Crucible), Operation Crucible (Finborough Theatre, Sheffield Crucible and NYC), 31 Hours (Bunker Theatre), Comet (The Pleasance), Cornerstone and Operation Crucible (BBC Radio 4). Kieran has twice been nominated for the OffWestEnd best newcomer award and was long listed for the Bruntwood prize for his play Wilt in 2019 which was due to be performed at the Theatre by the Lake but was cancelled by COVID.
Abigail is an award winning freelance Theatre Director and Educator.
Directing work includes: Merchant of Venice (Sam Wanamaker Playhouse, The Globe), Aladdin by Vikki Stone (Lyric Hammersmith). MUM by Morgan Lloyd Malcolm (Francesca Moody Productions, Plymouth Drum/Soho Theatre), Earthquakes in London (Guildhall); The Tyler Sisters (Hampstead); Linda (RADA); 31 Hours (The Bunker); Dogville (Rose Bruford) Death of a Salesman (Royal and Derngate/UK Tour); And Now: The World! (OpenWorks, UK tour); Timmy Failure:  Mistakes Were Made (Assembly Rooms, Edinburgh); Debris (OpenWorks, Southwark Playhouse); Molly Sweeney (Print Room/Lyric Belfast/Northern Ireland tour); Blue Heaven (Finborough) and The Boy and The Dog Who Walked to the Moon (Pleasance, Edinburgh).
Her production of Aladdin at The Lyric Hammersmith won 3 awards at the UK Pantomime Awards, including Best Panto.
From 2013-2017 she was the founding Artistic Director of OpenWorks Theatre, an organisation dedicated to changing who goes to the theatre by changing who makes it.
She was Director of The Bush Theatre's Neighbourhood Company 2020-21 and created a piece of work with them and Titas Halder which premiered at the Bush and online in June 2021
She was the the Director of the Lyric Hammersmith Ensemble 2019-2020 for whom she commissioned Titas Halder to write a new play. Sadly, due to Covid-19 the production never happened.
Abigail has directed community and education projects for The Young Vic (Maria Theatre and Maudsley Hospital), National Youth Theatre, Clean Break and Almeida, and has worked as a Mentor Director for National Theatre Connections since 2015. She has also been a guest speaker for The Arvon Foundation and taught acting at The Globe.
Work as a film director: Timetable (Anderson Shelter Productions)
Theatre work as an Associate Director includes Great Expectations (Bristol Old Vic), Death and the Maiden (West End), Ruined (Almeida), The Glass Menagerie (Young Vic), Enron, Wallenstein, Separate Tables (Chichester Festival Theatre).
Abigail is on the board of Stage Directors UK and Attic Theatre.
Contains loud bangs, swearing and loud live music.
Creative Team
* LAMDA staff member or visiting artist
Lighting Designer
Avery Elliott
Sound Designer
Callum Watson
A Sawyer / Slop Worker / The Printer / Chorus 8
Nadine Ivy Barr     
Street Musician 1 / Distressed Gentlewoman / Chorus 2
Tilly Botsford
An Irish Onion Seller / Chorus 12
Laura Brady 
The Editor / Chorus 1
Georgia Brown 
Street Musician 4 / Mother of the Mudlark / The Exhibitor of the Microscope / Chorus 5
Rosa Collier 
Street Musician 2 / The Woman Who Lost Everything to the Tally Packman / Chorus 3
Chaya Gupta
The Cheap Furniture Maker / The Director / Chorus 10
Kiziana Jean-Louis
A Weaver Working in His Home / A Photographic Man / Bathroom Man / The Man Who Lost Everything to the Tally Packman / Chorus 6
André Larnyoh 
The Homeless Painter / Watercress Girl / Old Sarah / Chorus 11
Niamh Marie Smith
Female Needleworker / A Shoemaker's Widow / The Most Intelligent Costermonger / Chorus 7
Tobi Martins-Ojo 
Ham Sandwich Seller / The Tally Packman / Chorus 9
Roy Mas 
The Rat Catcher / Chorus 14
Peace Oseyenum                         
Street Musician 3 / An Irish Labourer / The Mudlark / Chorus 4
John Rice
Henry Mayhew / The Clown
Shannon Smith      
Father / Chorus 13
Michael Tcherepashenets 
Stage Manager
Charlotte Owadally
Deputy Stage Manager
Kit Fowler
Assistant Stage Manager
Isabel Buchanan
Production Manager
Tom McCreadie
Chief LX
Jen Garland 
Deputy LX / Programmer
James Imber 
Production Sound Engineer
Jas Fuller 
Production Carpenter
Chloe Alexander 
Lighting Crew
Aidan Gibson
Ronan McKenna
Elaine Redshaw
Enna Stephens
Sound Assistants
Callum Duncan
Ghoti Fisher
Construction Crew
Simon Fleming
Peter Johnston
Elisabetta Perrotta
Maia Thompson