BA (Hons) Production & Technical Arts: Stage & Screen
Industry-supported training for successful careers in theatre, film, television, and live events.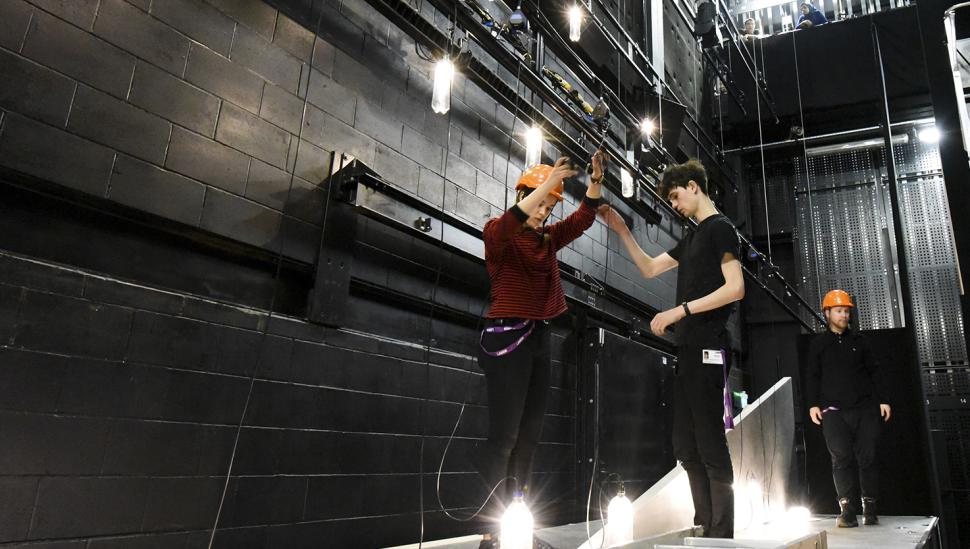 Tuition fees
Academic year 2023/24

UK applicants: £9,250 per year
International applicants: £23,005 per year
Tuition fees are reviewed annually
There isn't an application fee for Production & Technical Arts courses.
Application deadline
Saturday 1 July 2023 at 5pm [BST]
Interviews
Interviews will be held from November 2022 through to July 2023, we encourage early applications.
Admission process
Application form and interview, find out more on our How to apply page.
About the course
This comprehensive vocational training will qualify you to be the best in the industry: capable, creative and highly sought-after by employers.
In this industry-leading three-year course you'll develop the skills, knowledge and experience you need to have a successful and long-lasting career in theatre, film, television and beyond.
Exploring the capabilities of LAMDA's three professional theatre spaces and our range of workshop and studio facilities, you'll work side-by-side with experienced industry professionals to create and run LAMDA's productions.
In your first year of this technical theatre course, you'll develop a firm grounding in production and technical arts. You'll explore four core disciplines: stage management, scenic construction, lighting and sound, and you will be introduced to the elements involved in stage, screen and audio production.
Throughout the year, you'll develop your management skills, learn prop making, health and safety, first aid, fire safety and AutoCAD and Vector Works.
You'll also get to know the different roles within theatre, television and radio, and will quickly gain practical experience on LAMDA's productions, working with other students to collaborate on innovative and creative work.
In your second year, you'll take it a step further as you undertake four senior production roles on LAMDA shows staged in one of our three performance spaces.
Senior roles will also be available on our screen and audio projects, which are shot, recorded and edited by industry professionals.
You can choose either to specialise in one area or keep your options open and work across a broader range of roles. The range of modules include options in Stage Management; Lighting; Production Sound; Scenic Construction; Production Management; LX Design; Sound Design; Screen & Audio.
You'll also undertake a six-week placement. Your placement will give you the chance to put the skills you have learnt into practice in a professional environment. This will be an invaluable opportunity for you to expand on your skillset and make important industry contacts.
In your final year you will undertake three more senior production roles including at least one as Head of Department. You will have the opportunity to specialise in one department, though this is not essential.
You will also undertake another period of work-based learning within the industry and do an Independent Project related to your preferred discipline as well as creating a Professional Portfolio. 
Funding your training
There are two scholarships available for incoming Production & Technical students from The Portal Trust, ​​​​​​in addition to the Andrew Lloyd Webber Foundation Scholarship who meet the eligibility criteria.
Andrew Lloyd Webber Foundation Scholarship is designed to support an incoming student with Tuition fees only on the BA (Hons) Production and Technical Arts: Stage & Screen course.
The Portal Trust Scholarships are designed to support two incoming students from the LAMDA Pathways Programme with a full bursary towards living costs for the duration of their Production and Technical Arts: Stage and Screen course.
Find out more about how to fund your training and the Production & Technical Arts scholarships that you may be eligible for.
If you're looking to explore the backstage professional world, and develop your expertise in stage management, production and technical theatre through in-depth training in technical and managerial competencies, this course is for you.
You'll need to be a creative, independent minded individual with a passion for the dramatic arts, with a flexible, dedicated and hands-on approach to work.
There are no academic requirements for this course but you must demonstrate a determination to learn, and have some experience of working backstage on a production, whether that's through school or in an amateur or professional production setting. Entrance to the course is determined via an interview. 
You need to be a fluent English speaker. Non-native speakers do not need to provide an English language test report when they apply as we assess English at the auditions and interviews. However, you'll need to provide a valid IELTS test report with an overall score of seven if you're offered a place. We can only accept IELTS for UKVI.
Tuition fees
Academic year 2023/24
UK applicants: £9,250 per year
International applicants: £23,005 per year
Course fees confirmed in an offer letter may be increased in further years of study by an inflationary amount determined in accordance with measures set by government.
There isn't an application fee for Production & Technical Arts courses.
Placements and practical modules involving work on live productions will be assessed continuously and also through a final assessment and tutorial at the end of each module.  Portfolio and project work will be supervised through tutorials and assessed through the submission of artefacts (eg sound files, visuals, models etc) and through written work.
Credits: 240 credits in total (each year is 120 credits)
Year one (30% of your final degree mark)
You will undertake four of these five modules (all modules are 30 credits):
Year two (70% of your final degree mark)
Compulsory Module: Placement (20 Credits)
Optional Modules (all are 25 Credits) you will choose four production roles from areas such as:
Once you've completed the course you will: 
Be equipped with the necessary skills and experience to kickstart a rewarding career in the entertainment industry
Have worked within a busy theatre and on professional productions
Know how to research and deliver the ideas presented by directors and designers 
Have experience of managing a budget  
Have experience of working with state-of-the-art technology
The course is practical, you'll be expected to train for a minimum of 35 hours per week of contact hours and all classes are compulsory. During production periods the weekly hours are likely to increase significantly.
Your future career
The nature of this vocational course means that you will be preparing every day for a professional career within the entertainment and events industry. We focus on developing your practical skills alongside principles.
During your first term you'll begin to put the skills you've learnt into practice by staging a small production. From this point on you will continue to receive classes but will also start to get involved in LAMDA's productions – either workshops or performances.
You'll also undertake a professional work placement to gain experience in an area of your choice.
In addition, you will have opportunities to network with current industry practitioners, to ensure you're prepared both for full-time employment and for freelancing.
Find out more about support beyond LAMDA